Catering for weddings
Pride of Asia takes the stress out of your special day ensuring that every dish is at its highest, freshest quality letting the bride and groom enjoy a flawlessly delivered dining experience. Furthermore, not only does Pride of Asia deliver the finest of dining experience through its unforgettable dishes, we also provide a mesmerizing, creative backdrop to any wedding, giving our brides and groom an array of décor designs to choose from whether a jaw dropping stage to a gracefully detailed placed centre piece all in all adding a visual delight and experience to every guest from start to finish. Our creative events team will ensure that every detail for your special day is PERFECT!
Corporate catering
Pride of Asia has had the honour to cater for cooperate events from a grass root level organizing an impactful visual element to any size corporate event. We understand and know the importance of 'first impressions' and assure that we deliver a flawless corporate function weather its Breakfast for 10 or a large-scale Gala Dinner for up to 1000 delegates, Pride of Asia will extend the professionalism your company deserves.
Event Catering
Pride of Asia is a specialist in the field of event catering; we provide a complete range of services so we can supply the demand of all our clients.

Our event catering services include wedding catering, corporate catering and fund-raising dinners for the non-profit sector.

Visit any one of these pages to find out more on the services we offer. As the preferred supplier for many clients, partner us for your next event to enjoy the pride of Asia experience. We promise you won't be disappointed.
Public sector catering
Pride of Asia sees itself as a socially responsible business that is committed to fulfilling its responsibility to the community. With an outward looking approach to business, we find it easy to help in the community by facilitating causes that provide support for the people and organisations that want to make the community and the world a better place. Pride of Asia has hosted vast number of fundraising events, conferences and charity dinners providing our culinary input and our catering expertise to make sure the event runs as smoothly as possible.

Pride of Asia welcomes charitable initiatives because of our commitment to corporate and social responsibilities. When organising a charitable event or a fund-raising dinner, contact us to use our facilities or for larger gatherings, we will ensure you will be well accommodated by our partnering venues. With our renowned catering expertise in providing only the best quality of food, guests will be inclined to feel generous. Similarly, we will do all we can to help in all departments to ensure a successful and effective event.
Social and charity work
As Pride of Asia sees itself as a socially responsible business, we do lots of charity work in UK and many other countries. We support lots of charity organisations by giving free meals for their fundraising events. We provided iftar to prisoners at HMP Wormwoods Scrubs for many years. During the COVID 19 pandemic Pride of Asia provided thousands of hot meals to hospitals and care homes for NHS staff at free of cost. There is no alternative to education to make women self-reliant, so the founder & CEO of Pride of Asia Mr.Wazid Hassan Shelim set up a charitable girls school and college in his own village in Bangladesh.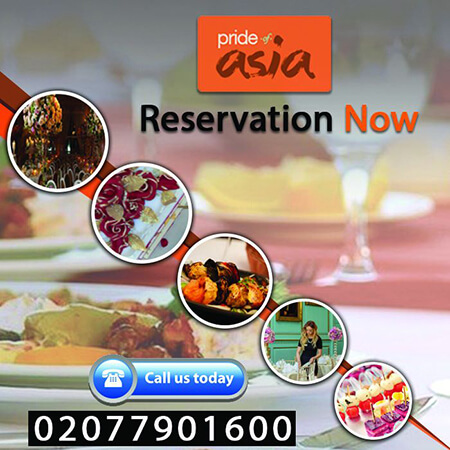 Pride Of Asia. One of our precedence is to give you and your guests the best catering service there is. We take the issue of satisfying our clients very seriously.
Request a Quote